Nexus: New Intersections in Internet Research
Amazing news! Feels like an early christmas present. My neighbour just rang the door and handed me over a package containing one of the most exciting objects I've ever received!
After over a year of hard work – planning, teaming up, coordinating, communicating, finding a publisher, writing, editing, editing, editing, editing – I can finally hold it in my hands! May I present:
Nexus: New Intersections in Internet Research!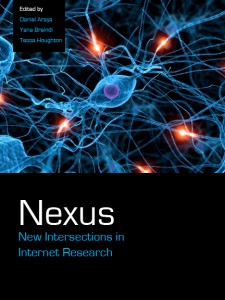 Co-edited by Daniel Araya, Tessa J. Houghton and myself, it's a most useful collection of chapters collaboratively written by 2 or more former Oxford Internet Institute SDP09 alumni! It is divided into three sections investigating socio-cultural, technosocial and political intersections in internet research!
Personaly, I co-authored chapter 9, Leetocracy: Networked Political Activism or the Continuation of Elitism in Competitive Democracy with the talented Nils Gustafsson from Lund University in Sweden.  In this chapter we point to the fact that successful forms of networked digital activism can be heavily depending on technical and networking skills. Rather than functioning as the base of more egalitarian politics, the growing importance of networked political activism aided by digital media may on the contrary create new elites.
Nexus comprises many promising approaches, analyzing gender and technology (Anitza Geneve & Carla Ganito), online photography (Eric Cook & Cristina Garduño Freeman), the geo-linguistics of Wikipedia (Thomas Petzold & Hanteng Liao) or the monetization of blogs in Malaysia (Julian Hopkins & Neal Thomas) to name just a few.
Check out all the details and order Nexus right here.
Nexus received already many praises:
«The talented young scholars behind this collection break new ground in examining emerging collaborative uses of the Internet and the impact of such use across a range of settings. Well-written and thematically coherent, this volume takes us deeper into the social implications of ICTs, while at the same time ably demonstrating the multidisciplinary and transnational character of the developing field of Internet studies.» (Peter Dahlgren, Professor Emeritus, Media and Communication Studies, Lund University, Sweden)
and:
«In this volume, the Oxford Institute and QUT at Brisbane have brought together a virtual 'dream team' of doctoral students, many of whom are already highly accomplished researchers. The main value of this volume is its strong contribution to empirical research on the subject of Internet research along with a healthy dose of reality-check on the promises and warnings surrounding cyber-discourse. This is a stellar collection with talented editors and deserves a close look by Internet researchers, activists and advocates.» (Michel Bauwens, Founder, P2P Foundation; Associate Professor, ARC Centre of Excellence for Creative Industries and Innovation)
Leave a Reply
You must be logged in to post a comment.